Picture Day and Hit-A-Thon, rescheduled to Saturday, July 6th
---
---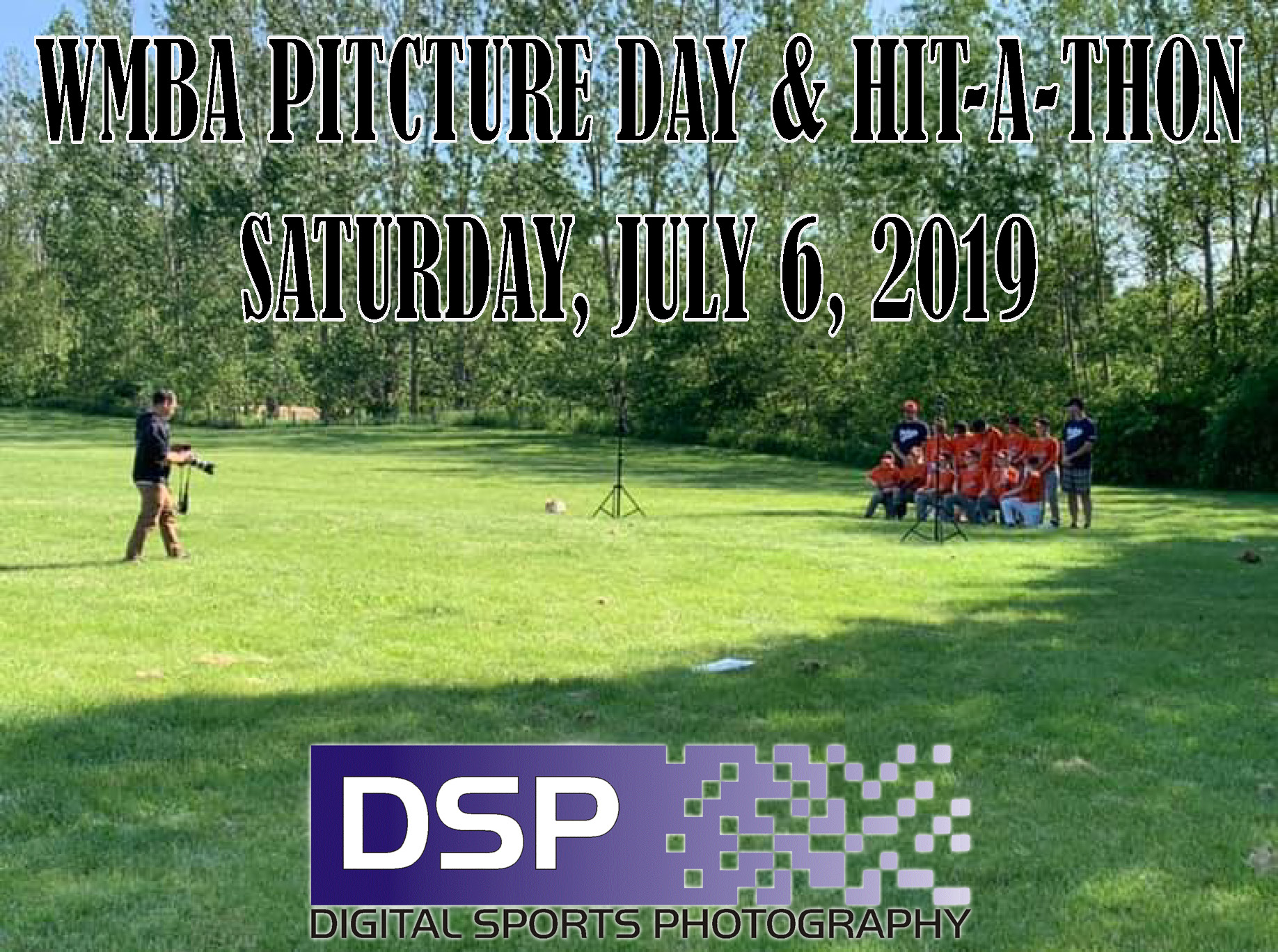 ---
The rescheduled date for Picture Day and Hit-A-Thon is Saturday, July 6, 2019 @ Memorial Park Diamond 2 (See schedule below for team specific times)
Picture Day
Pictures will be taken again this year by DSPhotography. Order sheets will be on the Website shortly and they will have them available at the park. Great time to come out and get a Memory Mate for a low as 15.00
Click HERE to view and/or print picture order form
The team photo schedule is posted at the bottom of this page.
Hit-A-Thon
This is Welland Minor Baseball only fundraiser.
After your pictures join us on the ball field for our Hit-a-thon.
Each player will hit 3 balls using a tee. The longest hit will be measured and recorded on your pledge sheet. The measured distance will include the roll of the ball.
All players that raise $50 or more will also be eligible for Prizes and a draw at end of the year, for FREE 2020 registration. Prizes will be awarded to individuals that collect the most donations (see prize sheet on website).
Achieve the greatest distance hit. Prizes will be awarded for the following categories:
* Trophy for longest hit by individual per team.
* Trophy for longest hit by individual per division.
* Note: only one trophy per individual
To be eligible for the greatest distance Trophies, a player must raise a minimum of $20. Remember - Going door to door is not the only way to obtain sponsors. Mom and Dad and other family members can help by taking sponsor forms to work, to church and other adult activities.
Click HERE to download and Print Hit-A-Thon Pledge Form
Click HERE to view and/or print Hit-A-Thon Guidelines
Click HERE to view 2019 Hit-A-Thon Prize Description
NEW THIS YEAR……The Team from each division that raises the most money (

minimum $100.00

) will have a tray of pizza delivered to the Ball field after a practice……Which team is going to Win!!
Hit-A-Thon money must be turned in on July 6, 2019 to be eligible for prizes.
Hit-a-Thon forms and Picture forms are posted on the website for you to print off.
Picture Day and Hit-A-Thon Schedule
Division
Teams
Pictures
H-A-T
Peewee #1
Lake Monsters
9:00
9:10
Peewee #2
Bisons
9:10
9:20
Peewee #3
Mudhens
9:20
9:30
Peewee
Select Team
9:30
Mosquito #1
Fire Frogs
9:40
9:50
Mosquito #2
Seawolves
9:50
10:00
Mosquito #3
Bats
10:00
10:10
Mosquito #4
Bulls
10:10
10:20
Mosquito
Select Team
10:20
Bantam #1
Link Realty Mustangs
10:30
10:40
Bantam #2
Midas Mustangs
10:40
10:50
Bantam
Select Team
10:50
Senior Rookie #1
Tin Cups
11:00
11:10
Senior Rookie #2
Bees
11:10
11:20
Senior Rookie #3
Bananas
11:20
11:30
Senior Rookie #4
Rivercats
11:30
11:40
JR Rookie
Black
11:40
11:50
JR Rookie
Grey
11:50
12:00
JR Rookie
Maroon
12:30
12:40
JR Rookie
Navy
12:40
12:0
JR Rookie
Orange
12:50
11:50
JR Rookie
Red
1:00
12:00
JR Rookie
Royal
1:10
1:20
JR Rookie
Sky Blue
1:20
1:30
Tball
Black
1:30
2:30
Tball
Gold
1:40
1:50
Tball
Grey
1:50
2:00
Tball
Navy
2:00
2:10
Tball
Orange
2:10
2:20
Tball
Red
2:20
2:30
Tball
Royal
2:30
2:40
Tball
Sky Blue
2:40
2:50
Midget
Elkin Injury Law
2:50
3:00